Welcome to the latest version of our Semana Slack app! We are excited to introduce new features that will streamline your remote and on-site work management. From booking your workdays to tracking your colleagues' schedules, Semana has got you covered. Read on to explore the new functionalities and make the most of your collaboration experience.
Simplified Booking Process:
Discover an easier and faster way to manage your remote and on-site workdays through the Semana Slack app. Here's how you can do it: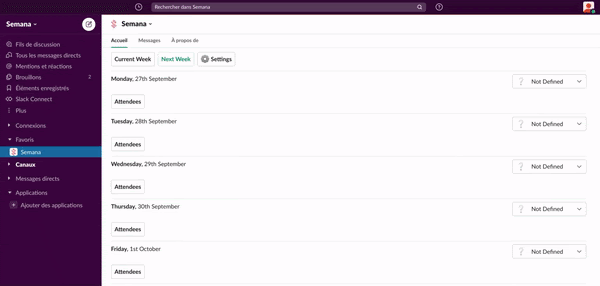 Open Slack and go to Applications.
Select Semana from the list of apps.
Choose your preferred options and book your days hassle-free.
With the flexibility of booking up to six weeks in advance (for the most organized ones 😉), Semana ensures you can plan ahead effectively.
Express Your Status with Emoji:
We understand the importance of conveying your work status at a glance. With Semana's new feature, an emoji will be displayed next to your name to indicate your current work situation:
🏢: On-site at the office
🏡: Working from home
🏝️: Enjoying a day off
This feature fosters seamless communication and understanding among team members about each other's availability.
Improved Collaboration with Attendance Tracking:
The office is the epicenter of collaboration, and Semana takes it a step further with the "See who is coming" feature. Now, you can view a list of attendees for each workday, enabling better coordination with your co-workers.

Teams are organized based on departments like Marketing, Finance, and Sales, ensuring you can find the right colleagues easily.
Never Miss a Booking with Weekly Reminders:
We value your time and want to help you stay on top of your schedule. Semana will send you a weekly reminder to book your workdays, ensuring you never miss out on important updates and opportunities.

Upgrade your Slack experience with the latest Semana app features. From simplified booking to expressing your status with emojis and enhancing collaboration through attendance tracking, Semana has it all. Stay organized, connected, and efficient with Semana Slack app – the perfect companion for modern professionals.